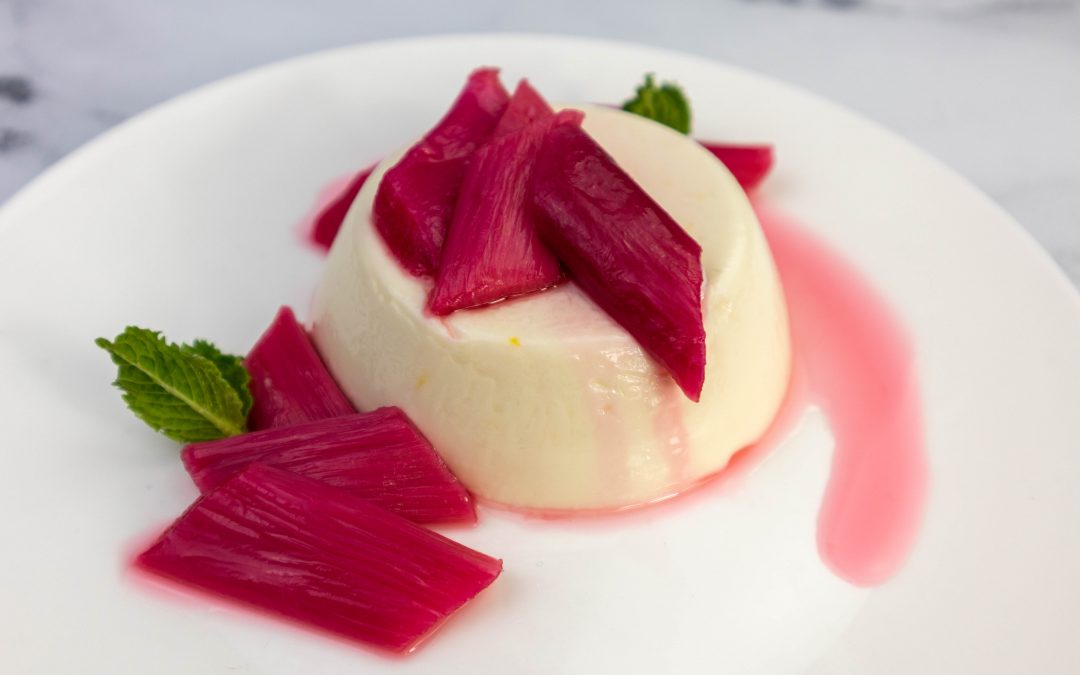 A deliciously sweet, tangy buttermilk and lemon dessert! This Panna Cotta is served in a pool of fresh tart rhubarb sauce and topped with sous vide rhubarb pieces flavored with Grand Marnier.
For the Rhubarb
INGREDIENTS
8 oz. fresh rhubarb
2 tablespoons sugar
2 tablespoons Grand Marnier
INSTRUCTIONS
Preheat the sous vide circulator to 190˚F. Wash and cut the rhubarb into slices about 1.5" long. Place the rhubarb in bowl add the sugar and Grand Marnier; toss to coat. Add in an even layer into a vacuum bag and tightly seal under vacuum.
Add the bag to the water bath and cook for 45 minutes. Remove and cool completely.
Refrigerate the bag until cold or overnight.
For the Buttermilk Panna Cotta
INGREDIENTS
2 tablespoons water
1 1/2 teaspoons unflavored gelatin
Nonstick oil spray
1 cup cream
1 teaspoon lemon zest
1/2 cup sugar
2 cups buttermilk
2 teaspoons vanilla extract
INSTRUCTIONS
Pour 2 tablespoons water into small bowl; sprinkle gelatin over. Let stand until gelatin softens, about 10 minutes. Lightly spray six 1 cup silicone ramekins or custard cups with nonstick spray.
Heat cream, lemon zest, and sugar in medium saucepan over medium-high heat, stirring constantly until sugar dissolves. Increase heat and bring just to low boil, stirring occasionally. Add gelatin mixture; remove from heat. Stir until gelatin dissolves. Cool mixture to lukewarm, stirring often. Stir in buttermilk and vanilla then divide the mixture evenly among prepared ramekins. Refrigerate panna cotta until set, about 4 hours or overnight. Cover once the surface has set.
To Serve
INGREDIENTS
Mint sprigs
INSTRUCTIONS
Loosen the panna cotta in each cup. Place a plate atop each ramekin and invert, allowing panna cotta to settle onto plate. Open the vacuum bag with the rhubarb and serve the rhubarb with its sauce over the Panna Cotta and the mint sprigs. Serve chilled.