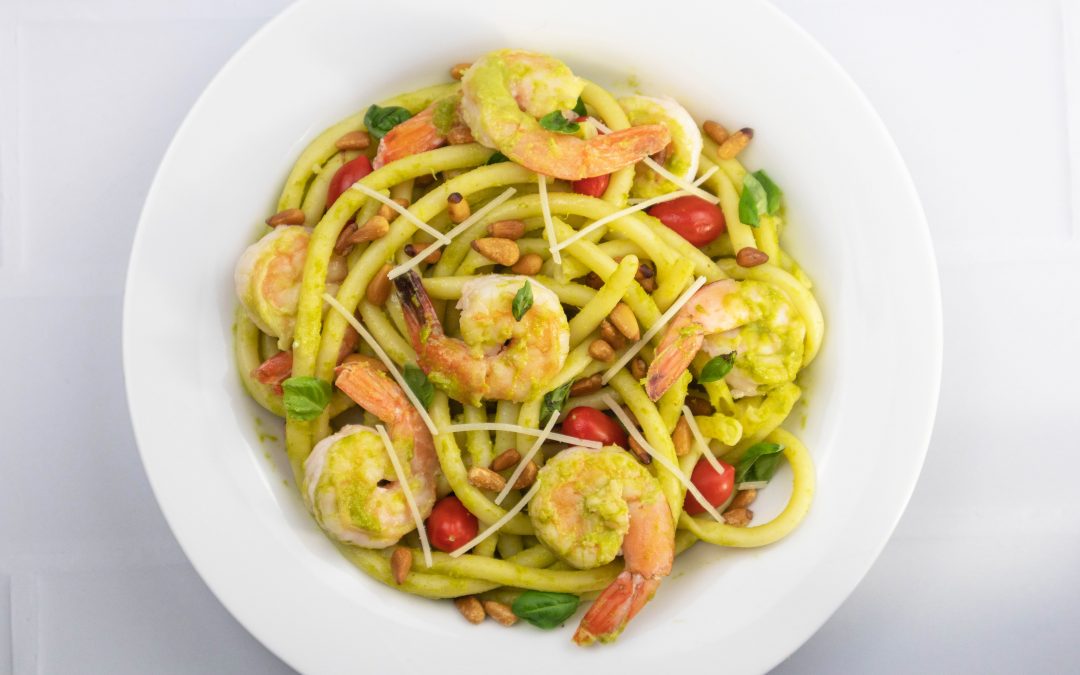 Garlic scapes are one of our seasonal favorites. Made into a Pesto, we tossed it with warm pasta, pan-seared shrimp, tomatoes, toasted pine nuts, and parmesan cheese.
Garlic Scape Pesto
1 cup garlic scapes, sliced into 1" pieces
1 cup toasted pine nuts, divided
½ cup extra virgin olive oil
½ cup Parmesan cheese
¾ cup basil leaves
Juice of one medium lemon
Salt to taste
Pasta, of choice
Grape tomatoes
Shredded parmesan cheese
Seared shrimp
1 pound large shrimp, peeled, and deveined
1 tablespoon extra-virgin olive oil
½ teaspoons coarse salt
pinch freshly ground pepper
Load in a high-speed blender the garlic scapes, ½ cup toasted pine nuts, olive oil, Parmesan cheese and basil leaves process until smooth. Add salt to taste. Scrape down the sides of the blender so everything is incorporated. Set aside.
Prepare the pasta according to package directions.
Heat a large sauté pan over medium heat. Add the olive oil, and heat until oil is hot. Arrange a single layer of shrimp in the pan, being careful not to overcrowd the pan. Cook until underside is golden brown, 45 to 60 seconds. Turn over, and continue cooking until other side is golden brown and shrimp is cooked through, about 1 minute.
Combine the warm pasta with shrimp and pesto. Top with the remaining pine nuts, grape tomatoes, and shredded parmesan cheese.