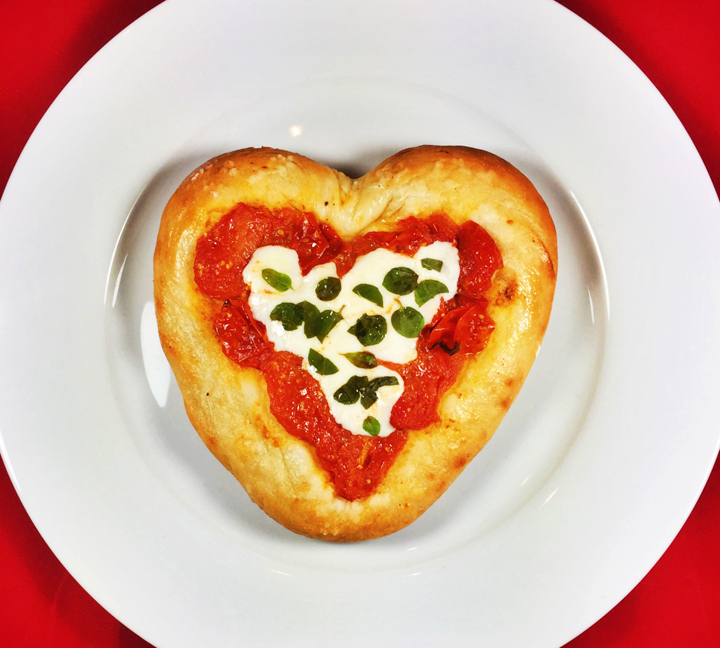 These little heart shaped Pizza Margheritas are as tasty as they are cute and perfect to make as a special treat for a loved one. Or prepare them on a family night as a fun way to celebrate Valentine's Day. Cherry tomatoes are perfect for this sweet little sauce; plus, it's so simple it can be made while the dough rises. Short on time or you don't want to make pizza dough? Just purchase store-bought fresh or frozen ready-made pizza dough.
INGREDIENTS
Pizza Dough
2 packages dry yeast
1 tablespoon of honey
3 tablespoons olive oil, plus extra to oil the pan
3 cups of bread flour, plus extra if needed
2 teaspoons kosher salt
Sauce
2 8-ounce cartons of cherry tomatoes
1 tablespoon of olive oil
½ teaspoon kosher salt
Pizza
Olive oil
Kosher salt
½ cup grated mozzarella cheese
¼ cup of small basil leaves or large leaves torn into small pieces
INSTRUCTIONS
If making your own pizza dough – In a stand mixer with a dough hook, combine the 1¼ cups of warm water (must be between 100-110 degrees for the yeast to bloom), yeast, honey, and 3 tablespoons of olive oil in the work bowl. Allow the yeast to dissolve and bloom for about 5 minutes, and then add 3 cups of bread flour, 2 teaspoons kosher salt, and mix on medium-low until combined. Continue kneading the dough in the mixer bowl for 10 minutes, sprinkling it with the flour as necessary to keep it from sticking to the sides of the bowl, so it forms into soft smooth dough. After 10 minutes, turn it out onto a floured surface and knead it by hand until smooth and elastic. Place the dough in a well-oiled bowl and turn it to cover it lightly with oil. Cover the bowl with a kitchen towel and allow it to rise at room temperature for 30 minutes.
Preheat the oven to 500 degrees; cover 2 sheet pans with parchment paper.
To make the sauce, heat a large sauté pan over medium high heat. When hot, add the oil, then the tomatoes immediately, rolling them around the pan to cover in oil. Keep shaking them in the pan as they blister on all sides. When blistered with brown edges, reduce the heat to medium and let them simmer for about 4 minutes or until then start to pop. Crush all the tomatoes and reduce the heat to low, cook for about 4 more minutes to thicken and soften. Set aside.
Turn the dough out on a floured board. Cut the dough into 6 even pieces and let rest, covered with a towel for 10-15 minutes. Stretching the dough, shape each piece into a heart shape and place on the parchment paper. Brush lightly all over with olive oil and sprinkle over a pinch of salt. Add about 3 tablespoons of the cherry tomatoes evenly in the center of each pizza and spread, leaving an edge for the crust. Add the cheese and sprinkle over with the basil leaves.
Bake one sheet pan at a time in the center of the oven for 10-12 minutes until the crust is browned on the bottom and sides.
Makes 6 small pizzas.