Our Fresh Chefs
All Fresh Chef Experience Chefs are college-level culinary school graduates and working professionals. Our Chef Instructors have a multitude of backgrounds from college-level teaching, to restaurant work, through food research and development. We teach mastering the latest techniques from the basics through advanced skills for all age groups. So, whether you and your guests are beginners desiring to learn some new skills or sophisticated foodies who love to cook, our Fresh Chefs are ready to instruct you on how to combine fresh ideas, food and a lot of fun!
Chef Kathy Douglas, Owner & Executive Chef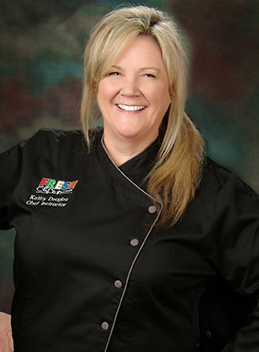 Culinary School Graduate – Sullivan University Kathy Douglas is a professionally trained chef and serial entrepreneur. After graduating Summa Cum Laude from Sullivan University's Culinary Arts Hospitality Studies, she created Fresh Food Ideas to focus on providing food-based services that offer innovative and insightful recipe creation and food ideas as well as research for food-related product development. Kathy currently works for GE Appliances as the Chef-lead for Research and Innovation in the new Small Appliance Division.
Under Fresh Food Ideas, Kathy also established and developed Fresh Chef Experience to create fun and educational cooking experiences that bring back enjoyable home cooking and teach techniques focusing on fresh, raw ingredients. 
Along with teaching in Louisville & Lexington Kentucky at William-Sonoma retails stores, Chef Kathy teaches multiple cooking classes as community service ranging from elementary school age through college students. She has taught the Teens Cooking Matters/No Kid Hungry program for Dare to Care Food Bank, the elementary school Farm to Fork Classes for the Food Literacy Project at Oxmoor Farm as well a college class for the "Eat 2B Well" Culinary Medicine Program at the University of Louisville.
You can also find her around town actively teaching on various cooking stages including the Home, Garden & Remodeling Show, and the Kentucky State Fair. Chef Kathy has also been a culinary judge for the ProStart Kentucky state-wide high school program.
Jake Cheney, Executive Chef Instructor
Culinary School Graduate – Sullivan University   Jake Cheney is a professionally trained chef with a vast background in Culinary.  Graduating Summa Cum Laude from Sullivan University's Culinary Program, Jake has worked in the restaurant industry cooking at Dittos Grill in Lousiville, in food Research & Development for Kentucky Fried Chicken corporate offices, in Butchery for Kroger Stores, and as a Store Chef for the national chain Williams Sonoma, Inc.