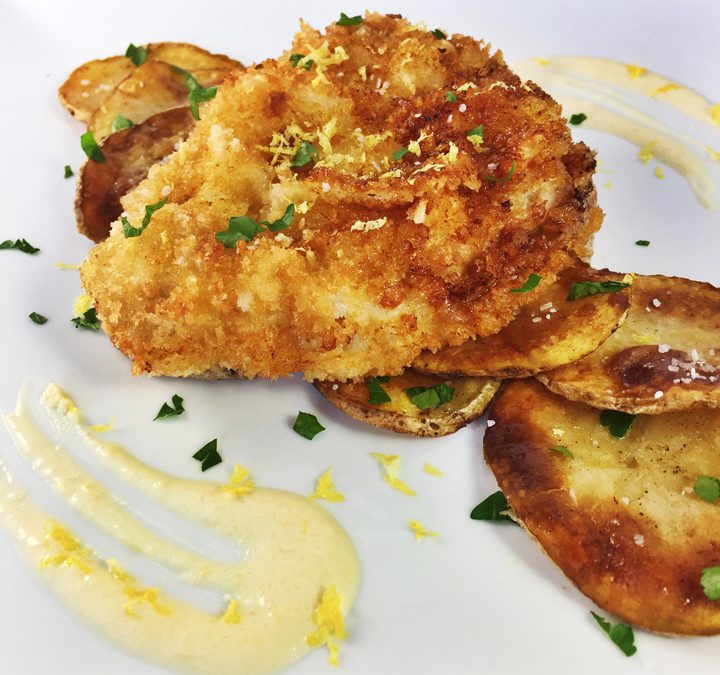 Lightly sautéed with a Panko breading, this recipe turns pork into a crispy piece of perfection. Thirty minutes is all it takes for moist, tender pork to become a melt in your mouth dinner favorite. Traditional Schweineschnitzel (Pork Schnitzel) is served with a garnish of sliced lemon and a sprig of parsley. We modernized it with a delicious Lemon Cream Sauce to serve on the side with a shower of fresh chopped parsley. The addition of easy butter-sautéed thinly sliced potatoes round out the dish.
Pork Schnitzel
INGREDIENTS
2 large eggs
1 cup all-purpose flour
Kosher salt
Fresh ground pepper
2 cups panko breadcrumbs
4 thin boneless center cut pork chops (about 1¾ pounds) pounded to ¼ inch thick
Grapeseed or Canola Oil
¼ cup flat-leaf parsley, chopped
2 teaspoons lemon zest
INSTRUCTIONS
Crack the eggs into a wide shallow dish and beat lightly with 2 tablespoons of water. Put the flour on a flat-rimmed plate and season with ½ teaspoon salt and ⅛ teaspoon of fresh ground black pepper. In another flat-rimmed dish add the panko and season with 1 teaspoon salt.
Dip the pork chops first in the flour, coat both sides well, and shake off any excess flour. Dip in the egg, letting the excess run back into the dish, then add the Panko pressing down to make sure all sides are well coated.
In a 12-inch sauté pan, heat ¼ inch of oil over medium-high heat until the oil is shimmering and vigorously bubbles when you dip in the corner of a pork chop. Sauté the chops in batches, flipping once. Add more oil if needed and adjusting the heat as necessary to maintain steady bubbling. Cook until golden brown on both sides, 3 to 5 minutes per side, and the internal temperature is 145˚F. Sprinkle with parsley and lemon zest and serve immediately with the Skillet Potatoes and Lemon Cream Sauce. Make 4 servings.
Sautéed Potatoes
INGREDIENTS
2 tablespoons butter, more if needed
2 Yukon gold potatoes, sliced very thin
Kosher Salt
2 tablespoons flat-leaf parsley, chopped
INSTRUCTIONS
Melt a tablespoon of butter over medium-high heat in a 12" sauté pan. Add the slices, in one layer, and cook until browned. Turn over and repeat on the other side. Remove to paper towels and drain, salt lightly and sprinkle with fresh chopped parsley when still warm. Cook in as many layers as needed, using the additional butter if needed. Makes 4 servings.
Lemon Cream Sauce
INGREDIENTS
2 tablespoons unsalted butter
1 tablespoons minced shallots
⅓ cup dry white wine
⅓ cup chicken stock
2 tablespoons fresh lemon juice
1 teaspoon lemon zest
⅓ cup heavy cream
INSTRUCTIONS
Melt the butter in a small heavy saucepan, then add shallots and sauté over medium heat for 2-3 minutes. Add the wine and cook until the wine almost evaporates completely. Add the chicken stock, fresh lemon juice, and bring to a boil. Reduce the liquid by half. Pass through a fine mesh strainer into a clean saucepan to remove the shallots; discard the shallots. Add the cream and lemon zest, reduce the heat to low and simmer until thickened. Makes 4 servings.