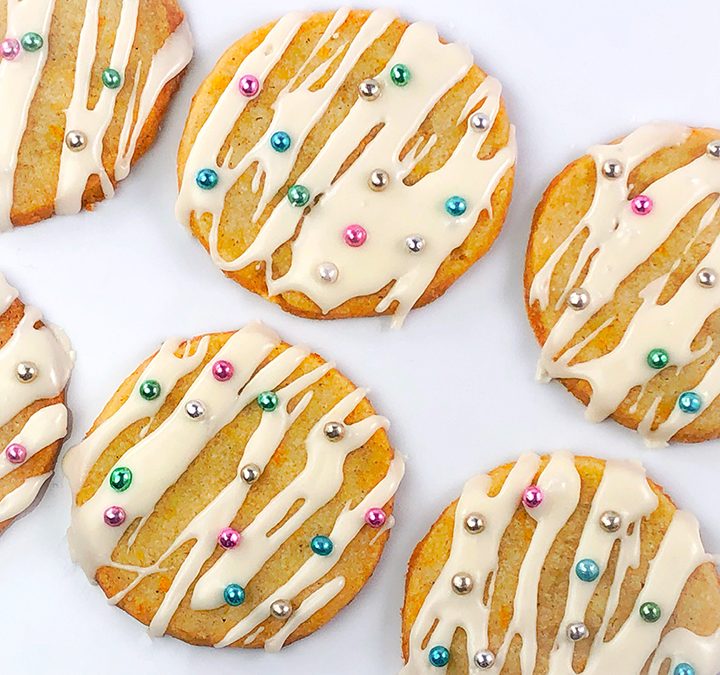 A plate of pretty ornaments, our Orange Cardamom Butter Cookies are decorated with fresh-squeezed orange juice icing and pastel dragées. Full of the taste of the season, these are a favorite on our holiday cookie plates.2 ½ cups, All purpose flour we prefer White Lily flour
INGREDIENTS
1-1/4 tsp of ground cardamom
½ tsp salt
3 sticks of unsalted butter
1 cup plus 2 tbs sugar
1-1/2 tsp finely grated fresh orange peel
½ tsp vanilla extract
1 extra large egg – room temperature
1 cup of powdered sugar
1 to 1 ½ tsp fresh orange juice
Whisk the flour, cardamom, and salt together. Using an electric mixer beat the butter until creamy about 2 minutes. Gradually add the sugar and beat until light and fluffy. Add the egg and beat to blend together. Reduce the mixture to low and work in all the flour slowly.  Separate the dough into two balls, place in a zip top bag and shape each one into a disk. Refrigerate for 24-36 hours.
Preheat the oven to 350 degrees. Working with one disk of dough at a time, remove from the refrigerator and let the dough stand for 15 minutes. Roll the dough out into a 1/8' thickness and cut out shapes. Gather dough scrapes together into a ball and refrigerate for several minutes until cold. Re-roll and re-cut shapes. Repeat with the other disk of dough.  As you cut them, place the cut cookies in the refrigerator to keep the shapes cold until time to bake. 
Place on a parchment lined baking sheets 3 inches apart and bake for 14-16 minutes or until golden brown. Cool for a few minutes on the sheet and remove to racks to cool completely.
When the cookies have completely cooled mix the powdered sugar with the orange juice to form a thick glaze. Drizzle on the cookies and decorate with French Dragees. Makes 52 cookies.