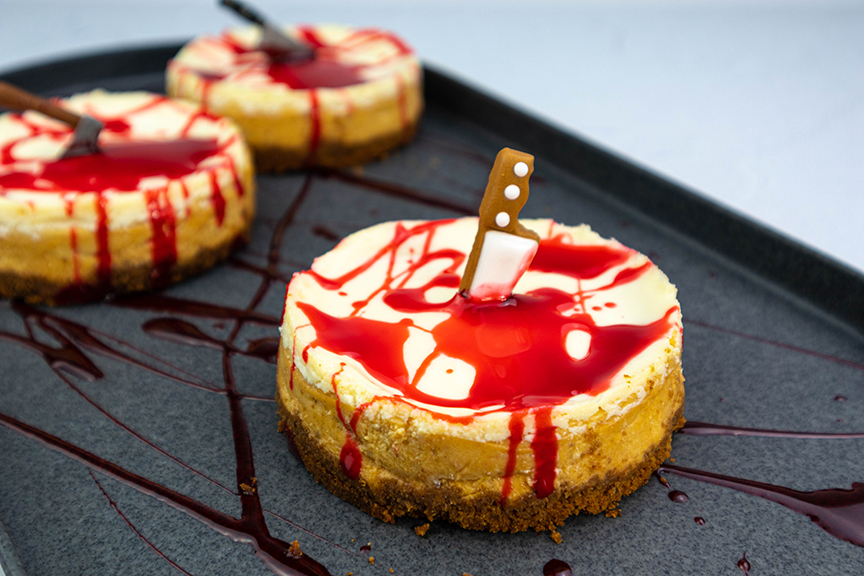 Slay your Halloween with this fun dessert. While they look ghoulish, these pumpkin and white chocolate mini cheesecakes are quite delicious. We used Wilton Blood Red Syrup and mini Candy Knives to add a spooky finishing touch. This recipe uses a scale to measure in grams for accuracy.
INGREDIENTS
For the Crust
115 g Graham cracker crumbs
1/2 teaspoon ground ginger
1/2 teaspoon ground cinnamon
43 g unsalted butter, melted
For the Filling
114 g white chocolate, chopped, melted
270 g cream cheese
2 eggs
35 g pure maple syrup
1 teaspoon ground ginger
1 teaspoon ground cinnamon
1/2 teaspoon ground nutmeg
100 g pumpkin purée
1/4 cup sour cream
For the Topping
114 g white chocolate, chopped, melted
1/2 cup sour cream
1 tablespoon pure maple syrup
Decorations
Wilton Blood Red Syrup
Wilton Candy Knives and Hatchets Set
INSTRUCTIONS
Preheat the oven to 350℉. Line the bottom of six mini springform pans with parchment. Butter the parchment and the sides of the pans.
To make the crust – Mix all the ingredients of the crust together. Divide the mixture between the mini cheesecake pans and press it into the bottom of the pan to form the crust. Place on a sheet tray in the oven and bake for 15 minutes. Remove and cool completely.
Preheat the oven to 325℉.
To make the filling – Using a stand mixer on medium low, cream the cream cheese with the melted white chocolate and then add the eggs one at a time, mixing to combine completelyafter each addition. In a small bowl combine the maple syrup, spices, pumpkin purée and sour cream. Add to the cream cheese mixture and stir until completely combined.
Divide the batter evenly between the pans. Place on a sheet tray in the oven and bake at for 25-30 minutes until set. Remove and set aside, leaving the oven on.
To make the topping – Whisk together all of the topping ingredients and pour an equal amount over the cheesecakes, spreading evenly. Place back in the oven and bake at 325℉ for 10 minutes more to set the topping.
Remove and cool completely in the springform pans. When completely cool, run a knife around the edge of the springform plans to loosen, then refrigerate in the pans covered overnight.
After chilling overnight, remove from the springform pans and decorate with Halloween syrup and candy knives. Refrigerate until 30 minutes before serving.