Fresh Chef Experience Cooking Classes in Louisville, Kentucky
Whether you are hosting a cooking party or just want to step up your culinary skills, our private cooking classes or parties happen with a small guest-to-chef ratio.  All attendees enjoy plenty of one-on-one time working directly with a professional chef in the privacy of a home, office, or event spaces. Each cooking event does require a MINIMUM OF 8 PEOPLE or more to be able to book an event,
Our professionally trained chefs arrive at your event location with everything required to have an excellent Fresh Chef Experience Cooking Class or Party. It's so easy – we bring all the food for the event and all the equipment. Fresh Chef Experience sets up, teaches one-on-one cooking skills, entertains, and cleans up the kitchen. Everyone just learns and has fun! The fun continues when Fresh Chef Experience Cooking Classes supplies all recipes and tips that help you recreate your Fresh Chef Experience Cooking Class.
Large or small, Fresh Chef Experience Cooking Classes can do it all. Our private cooking classes and parties are all about fresh ideas, food, and fun! So choose a one of our Fresh Chef Experience Cooking Classes, or create your own Cooking Class or Party, then call us at 502-386-5241 or email kathy@freshchefexperience.com to book your day and time.
We teach you the latest techniques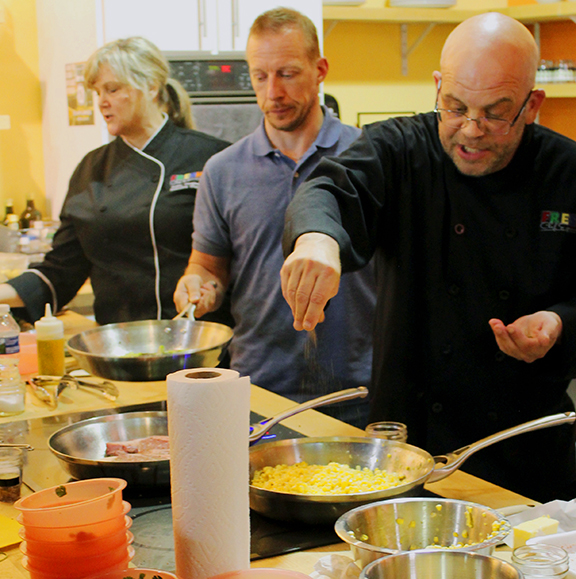 Fresh Chef Experience Chefs will instruct your event attendees' one-on-one with techniques that are perfect for cooking with the latest skills in the home kitchen. Our Fresh Chef Experience Classes and Parties will expand you and your guests' culinary horizon with our small ratio of chef-to-guest participation. We teach the newest cooking methods from basic culinary skills to advanced techniques – even preparing international dishes! And our professionally educated and trained chefs teach how to use your five senses: smell, sight, taste, touch, and sound to prepare excellent food – exactly how it happens in the kitchens of professional restaurants!
Our fresh and fun small ratio of chef-to-guest will bring out the culinary skills in everyone. All our recipes are all professional kitchen tested so you can make your Fresh Chef Experience recipes again and again.
It's all about expanding YOUR world of cooking
We created our Fresh Chef Experience Cooking Classes and Parties to be for all skill levels, and it's entirely up to your participants to decide their standard of involvement in the food preparation and cooking.  If you and your guests are interested in engaging in cooking the entire session, our instructional chef will teach one-on-one while the participants prepare and cook the entire menu. As a second option, everyone can cook and prepare part of the meal then watch our instructional chef demonstrate how to make the balance. Or, you and your guests may decide to sit back, relax, and watch one of our Chefs prepare your entire meal for you. We will demonstrate the cooking process and then serve your meal to you. Fresh Chef Experience Cooking Classes are all about YOUR choices.