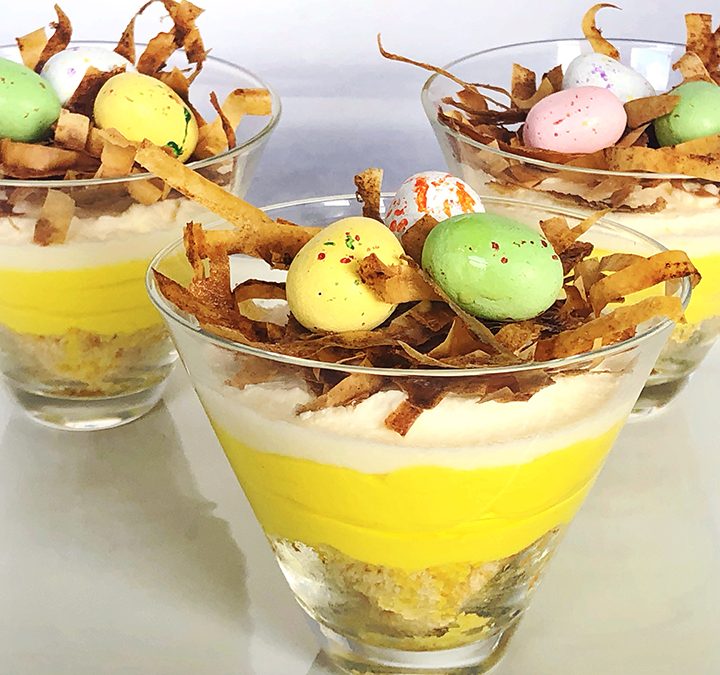 These cute individual trifles are perfect for your upcoming holiday dessert. We used cinnamon and sugar phyllo dough strips for the "nest" and Williams-Sonoma seasonal candy eggs over a lemon cheesecake filling with a shortbread cookie base. Need to cut some time? Simply use high-quality store-purchased shortbread cookies instead of baking your own.
Phyllo Dough Nest
INGREDIENTS:
6 sheets of phyllo dough
1 tablespoon cinnamon
2 tablespoons sugar
2 tablespoons melted butter
INSTRUCTIONS:
Preheat the oven to 350˚ F. Place a sheet of parchment paper on a baking sheet tray. Cut 6 sheets of phyllo dough in half to make 12 shorter sheets. Roll together tightly and very thinly slice into long thin pieces then transfer to a baking sheet carefully separating the layers.
Combine the cinnamon and sugar in a small bowl. Sprinkle with butter, then with cinnamon sugar. Bake until browned, 8 to 10 minutes. Remove and cool completely. Best used on the day they are made, but you can store in an air-tight container overnight. Re-crisp if needed in the oven for on 300˚F for 10 minutes, cool to room temp before using.
Shortbread Crumbs
INGREDIENTS:
1 cup unsalted butter at room temperature, plus more for the pan
½ cup plus two tablespoons granulated sugar
2 cups flour
1 tablespoon vanilla
6 glass serving cups
INSTRUCTIONS:
Preheat the oven to 350˚F. Butter an 8×8" pan. In a large bowl, using an electric mixer, cream the butter and sugar together on medium-high speed for 3-4 minutes. Fold in flour and vanilla and blend until a soft dough forms. Press into the 8" x 8" pan and bake until light brown, about 40 minutes; remove and cool completely. Crumble then divide equally among the cups and press the mixture evenly into the bottom of the cups. Or store in an air tight container over night and add the cups when ready to use.
Lemon Cream Cheese Layers
INGREDIENTS:
8 ounces mascarpone cheese, room temperature
¾ cup powdered sugar
2 tablespoons finely grated lemon zest
2½ cups cold heavy cream
1 cup homemade or store-bought lemon curd
INSTRUCTIONS:
Using an electric mixer on medium-high speed, beat mascarpone, powdered sugar, and lemon zest in a large bowl until fluffy, about 4 minutes. Reduce speed to low and gradually add the cream. When combined, increase the speed to medium and beat until medium peaks form.
Transfer half of mascarpone mixture to another bowl. Add the lemon curd to the remaining half and beat in until combined.
Dividing the mixtures evenly, layer the lemon curd mixture over the shortbread crumbs in each cup followed by the plain mascarpone /cream mixture. Smooth the top, cover with plastic wrap, and refrigerate for at least two hours and up until 24.
When ready to serve
INGREDIENTS:
Candy bird eggs
INSTRUCTIONS:
Form a nest in the top of each cup using the shorter pieces of cinnamon phyllo in the center and longer on the outside. Add the candy eggs into the center of the nest and serve immediately.