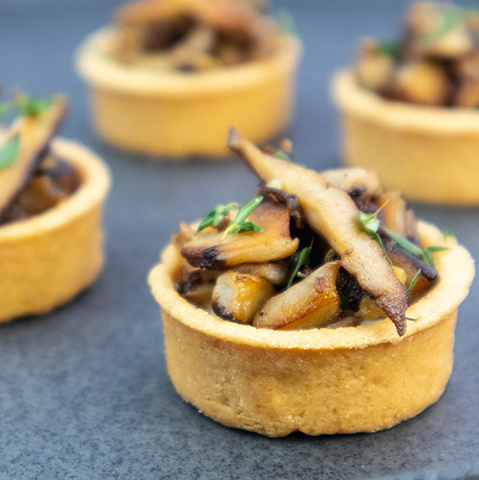 Ring in the new year with these yummy mushroom and thyme appetizers. Stovetop sauteed buttery garlic mushrooms served in a Crème Fraîche and thyme-filled appetizer cup. Super easy and super delicious! One of our Six-Or-Less-Ingredient Holiday Appetizers we featured on WAVE Country with Dawne Gee. Check out the video of our appearance on the show on our New & Events page.
INGREDIENTS
¼ cup Crème Fraîche, room temperature
4 teaspoons thyme leaves
Salt and freshly ground black pepper to taste
2 tablespoons butter
5 ounces mushrooms, sliced very thin
1 small clove garlic, grated or pressed with a garlic press
10 1" appetizer cups
INSTRUCTIONS
Whisk together the Crème Fraîche, 2 teaspoons thyme, ½ teaspoon salt, and ¼ teaspoon fresh ground black pepper. Set aside.
Heat a sauté pan over medium heat, add the butter, and melt, then add the mushrooms, garlic, 1 teaspoon thyme, and ½ teaspoon salt. Sauté until browned and all liquid has evaporated.
Add 1 teaspoon of the Crème Fraîche mixture to each appetizer cup, top evenly with the mushroom mixture. Sprinkle with the remaining fresh thyme and serve warm or at room temperature. Makes 10 appetizers.