Braised dishes have a robust hearty flavor. By partially submerging meat in liquid, tougher cuts become tender as the moist heat penetrates the meat and gently soften it. Choose a heavy-gauge braising pan and a shape best fitting the the meat or poultry for even slow-cooking. Use a fork to test for doneness and a spoon to remove the sauce. Lamb shanks come from the foreleg of the animal, are one of the toughest cuts of lamb, and require braising. However, once braised the meat becomes "melt in your mouth" delicious.
LAMB SHANKS WITH GREMOLATA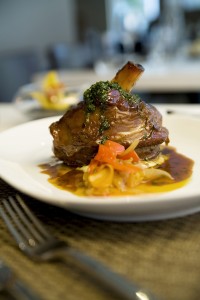 INGREDIENTS
  6-8 trimmed lamb shanks (about 6 lbs )
  2 Tbsp. kosher salt plus more for seasoning
  Freshly ground black pepper
  2 tsp. minced fresh rosemary
  1 tsp. coarsely ground fennel seeds
  7 garlic cloves, 1 grated, 6 minced
  4 Tbsp. olive oil
  2 large onions, minced
  2 Tbsp. unbleached all-purpose flour
  2 tsp. paprika
  ½ tsp. crushed red pepper flakes
  2 cups drained canned diced tomatoes
  ½ cup dry white wine
4 cups (or more) low-sodium chicken broth
Gremolata
¾ cup flat-leaf parsley leaves
2 garlic cloves, minced
1 Tbsp. finely grated lemon zest
1 tsp. minced fresh rosemary
DIRECTIONS
Season the lamb shanks all over with 2 Tbsp. salt and generously with pepper. Mix rosemary, fennel seeds, and grated garlic in a small bowl; massage into lamb. Cover and let stand at room temperature for 1 hour.
Preheat oven to 350°. Heat 1 tbsp olive oil in a large wide heavy pot or dutch oven over medium-high heat. Sear the lamb shanks until just browned on all sides, remove and set aside. Add 3 tbsp olive oil to the pan and then onions, season with salt and pepper, and cook, stirring occasionally, until golden, 8-10 minutes. Add minced garlic, flour, paprika, and red pepper flakes. Stir vigorously to distribute flour. Cook, stirring often, until mixture becomes dry, about 1 minute. Add tomatoes and wine. Simmer briskly, stirring often, until juices thicken and tomatoes begin to break down, about 10 minutes.
Gradually stir in 4 cups broth. Simmer until flavors meld, 3-4 minutes. Season to taste with salt and pepper. Add lamb shanks back to pot in a single layer, pushing them down into sauce (add additional broth if needed so that shanks are about ¾ submerged).
Roast, uncovered, until tops of shanks have browned, about 30 minutes. Using tongs, turn shanks over and roast for 30 minutes longer.
Cover and cook, turning shanks occasionally, until meat is fork-tender and almost falling off the bone, 45 minutes to 1½ hours (time will depend on size of shanks). Remove from oven and skim off fat from surface of sauce. Let shanks rest in liquid for at least 30 minutes.
To make the gremolata – Using a sharp knife, mince parsley (make sure it's dry). Mix parsley with remaining ingredients in a small bowl; toss to evenly incorporate.
Spoon meat with juices over. Sprinkle meat generously with gremolata.