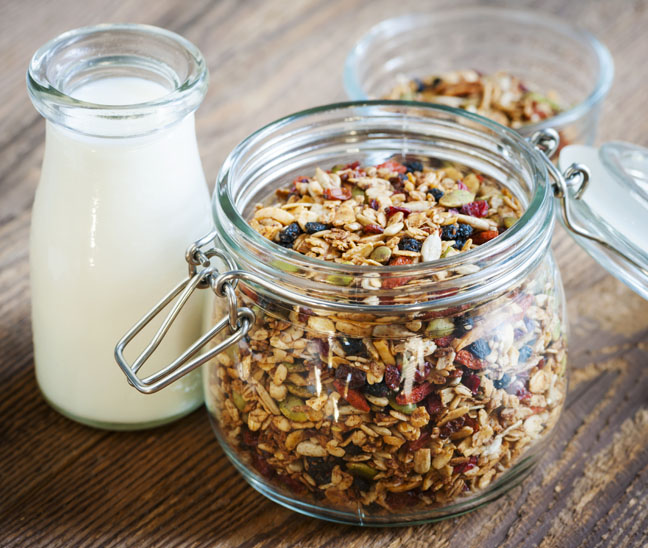 Thanksgiving breakfast is the easiest meal to skip; it is often the forgotten meal but the most important of the day. Skipping breakfast on Thanksgiving can increase your chances of overindulging or making poor food choices later in the day. Or even worse, a hurried unplanned breakfast can lead to poor sugary food choices. Our easy fall granola can be prepared prior to Thanksgiving and simply stored in a tightly sealed jar or container. To make your day easier, on Thanksgiving morning set out the granola with honey cinnamon yogurt and fresh juice so family members and overnight guests can make their own breakfast. Are you eating Thanksgiving Dinner as a guest? Take a jar to your host/hostess as a gift; you will be their hero when they wake up on Friday morning.
Ingredients:
5 cups old fashion oats (not one-minute)
2 cups sweetened coconut
1 cup pistachios, unsalted
1 cup walnuts, unsalted
1/2 cup sunflower seeds, unsalted
1/2 cup pumpkin seeds, unsalted
1/4 teaspoon kosher salt
2 teaspoons cinnamon
1/2 teaspoon nutmeg
3/4 cup grape seed (preferred) or canola oil
1/2 cup honey
1/2 cup diced dried apple
1/2 cup diced dried apricots
1/2 cup currents
1/2 cup dried cranberries
Instructions:
Preheat the oven to 325 degrees. In a large bowl, mix together the oats, coconut, salt, and all the nuts. In a smaller bowl, whisk together the cinnamon, nutmeg, canola oil, and honey. Pour over the oats, coconut, and nut mixture and mix until all is coated. Pour onto a baking sheet lined with heavy-duty foil. Bake for one hour, stirring every 15 minutes, until the mixture is a nice even golden brown. Remove from the oven and stir in the dried fruit; cool completely. Scoop the granola into an air-tight container. Store for up to 3 weeks. Serve with the Honey Cinnamon Yogurt recipe below.
Honey Cinnamon Yogurt
2 cups Greek yogurt
2 tablespoons honey
1 teaspoon cinnamon
1/4 teaspoon ground clove
Place all the ingredients in a bowl and whisk until combined.