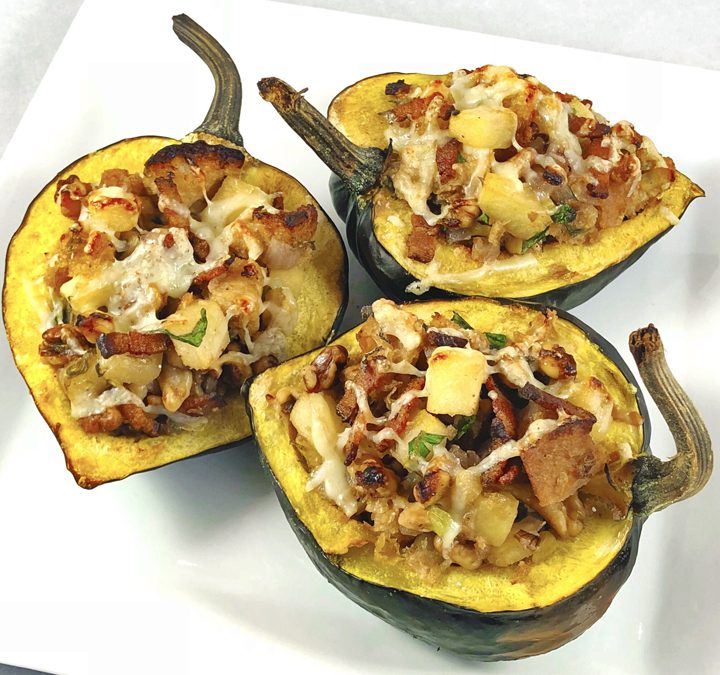 Loaded with vitamins, Acorn Squash has more potassium, calcium, magnesium, and folate than any other variety of squash. After baking the squash, we pile the center high with a flavorful stuffing including applewood smoked bacon, toasted walnuts, apples, gruyere cheese, and fresh fall herbs. Then sprinkled with more cheese, it's bake until golden brown on top.
 INGREDIENTS
1 tablespoon butter, melted
¼ teaspoon garlic powder
Kosher salt
Fresh ground black pepper
2 large or 3 medium acorn squash, halved and seeded
1 tablespoon plus 2 teaspoons fresh sage, divided
2 pieces applewood smoked bacon, cut into thin strips to make lardons
½ cup onion, finely chopped
1 celery rib, finely chopped
2 apples, Fuji, Honey Crisp, or other firm apple, cored and cubed
2 cups breadcrumbs1 cup toasted chopped walnuts
¼ cup boiled cider
¼ cup shredded gruyere cheese
2 tablespoons fresh parsley, chopped
Fresh ground pepper
INSTRUCTIONS
Preheat the oven to 400˚F.
Combine the melted butter, garlic powder, ½ teaspoon salt, ⅛ teaspoon pepper, and 2 teaspoons sage; brush over cut sides and cavity of squash. Place in a large roasting pan, cut side up, and roast in the oven for 1 hour, until the squash is tender but still holds its shape.
While the squash bakes, sauté the bacon lardons over medium heat in a large sauté pan. Remove the cooked bacon lardons, drain on paper towels and set aside. Leaving the fat remaining in the pan, place the sauté pan back on the heat and add the onion and celery with a pinch of salt. Sauté until the vegetables are starting just to soften. Add the apples and sauté until the apple are soft and a small knife can pass through one of the apples.
Add the croutons and walnuts to a large bowl. Pour the warm vegetables over the croutons and walnuts. Add the boiled cider, cooked bacon lardons, the rest of the sage, ⅔ of the gruyere cheese, the parsley, ½ teaspoon salt, and ⅛ teaspoon pepper. Mix well. Add evenly to the squash cavities and sprinkle with the remaining cheese. Place back in the oven and bake for 15 minutes. Makes 6 servings, serve immediately.