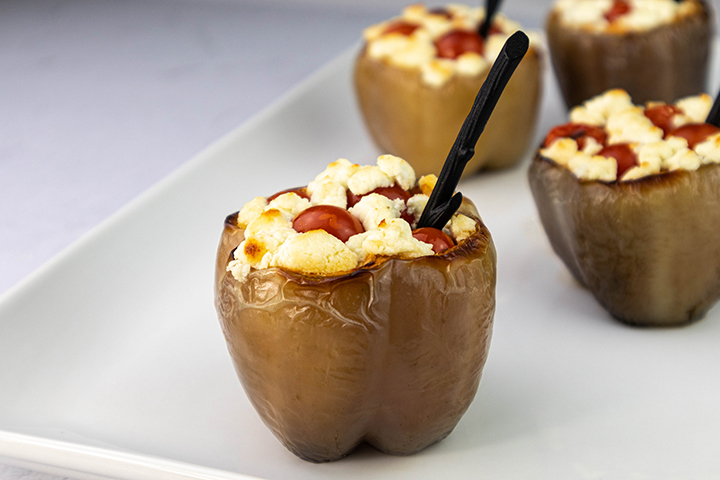 Purple bell peppers, disguised as a witch's cauldron, make for a fun Halloween dinner! Filled with cheese, rice, and sautéed veggies, they are topped with tiny cherry tomatoes and goat cheese curds for a bubbling finish.  Add a Wilton tree branch treat stick as the perfect stirring branch to complete the Halloween vibe.
INGREDIENTS
6 large purple peppers
1 cup diced red onion
1 tablespoon plus 1 teaspoon olive oil
1/2 teaspoon salt, divided
1 cup chopped tomato, seeds removed
1 teaspoon smoked paprika
½ teaspoon garlic powder
6 ounces crumbled goat cheese, 1 ounce of the larger crumbles removed and set aside.
3 tablespoons sour cream
1 cup cooked rice
10-12 very small cherry tomatoes
6 Wilton treat sticks, plastic tree branches
INSTRUCTIONS
Heat the oven to 375˚F. Slice off the tops of the peppers, discard the seeds, stem, and membranes. Set the peppers aside and finely chop the remaining top. You should have about ¾ cup of chopped pepper tops after you have removed all the tops from the six. Finely dice the onion to make 1 cup. Heat the oil over medium heat in a sauté pan and add the peppers, onions and half the salt.
Sauté until most of the moisture is gone from the mixture, then add the tomato and the rest of the salt. Cook until most all the tomato water has cooked away, then add the smoked paprika, garlic powder, 5-ounces of the goat cheese, sour cream, and the rice. Stir until well combined. Fill the peppers, leaving 3/8-1/2" space at the top, place on a baking tray then in the oven to bake for 20 minutes.
After 20 minutes, remove from the oven and top with the cherry tomatoes, pressing them halfway into the mixture in the pepper. Place back in the oven for 5 more minutes.
Remove from the oven and set the oven temperature to broil.  Arrange the remaining 1-ounce of larger goat cheese crumbles in and around the tomatoes. Place under the broiler and watch carefully to just slightly melt and just brown the top of the cheese. This should be 5 minutes or less. Remove from the oven. Let rest 5 minutes and add the decorative treat sticks to each pepper-cauldron and serve.