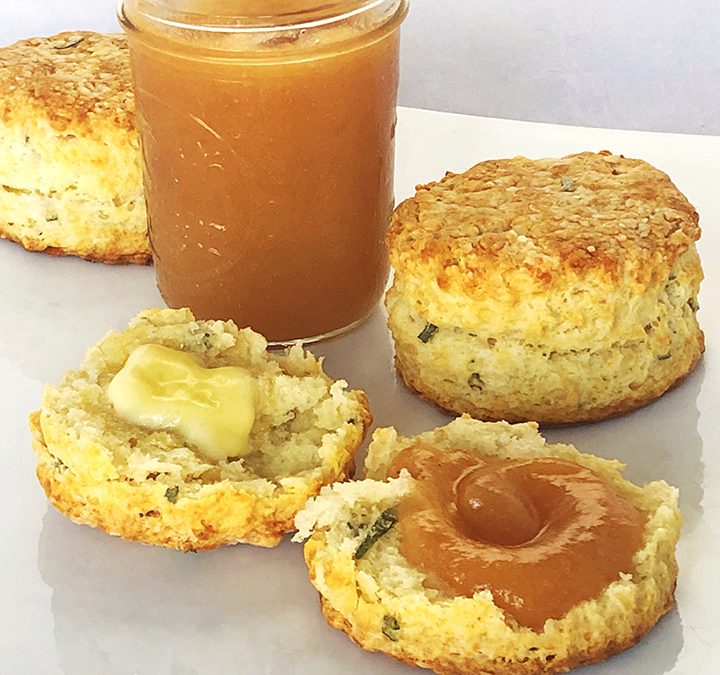 Delicately flaky, tall, and full of melted smoked cheddar cheese and thinly sliced sage. Perfect for a Fall Breakfast to go along with this easy Apple Butter recipe.
Apple Butter
3 pounds apple, mix of sweet and tart apples, peeled, cored, chopped
3 cups apple cider
1 cup granulated sugar
3 three-inch cinnamon stick
8 whole cloves
½ teaspoon kosher salt
Bring apples, cider, sugar, cinnamon, cloves, and salt to a boil in a large wide pot. Cook over medium-high heat, stirring occasionally, until most of the liquid has evaporated and apples are very soft, about 2 hours. Remove the cinnamon sticks and cloves. Blend with an immersion blend or place in a high-speed blender and process until smooth. Place in four one-cup jelly jars and refrigerate or freeze.
Sage & Smoked Cheddar Biscuits
4 cups White Lily flour, plus more for cutting 
2 tablespoons baking powder
1 tablespoon baking soda
2 teaspoons coarse salt
2 cups grated smoked cheddar
2 tablespoons chopped fresh sage
¾  cup cold unsalted butter, cut into cubes
1 ½  cups buttermilk
Preheat the oven to 450˚F. In a large bowl whisk together the flour, baking powder, baking soda, and salt. Add cheddar and sage and whisk to combine. Add butter and cut into the flour with butter with a pastry cutter until the mixture is the texture of coarse meal, with a few pea-size pieces butter remaining. Add buttermilk and with a wooden spoon stir until just combined. 

Turn dough out onto a lightly floured work surface and knead just until it comes together.  Gently pat unto a large round. With a floured rolling pin, roll dough to a 3/4-inch thickness. With a floured 3-inch round biscuit cutter, cut out  the biscuits. Cut until you have 12 biscuits by rerolling and cut scraps. Place biscuits on a baking sheet, 1 ½ inches apart, and bake until puffed and golden, 12 to 15 minutes. Transfer to a wire rack. Serve warm or at room temperature with the Apple Butter.