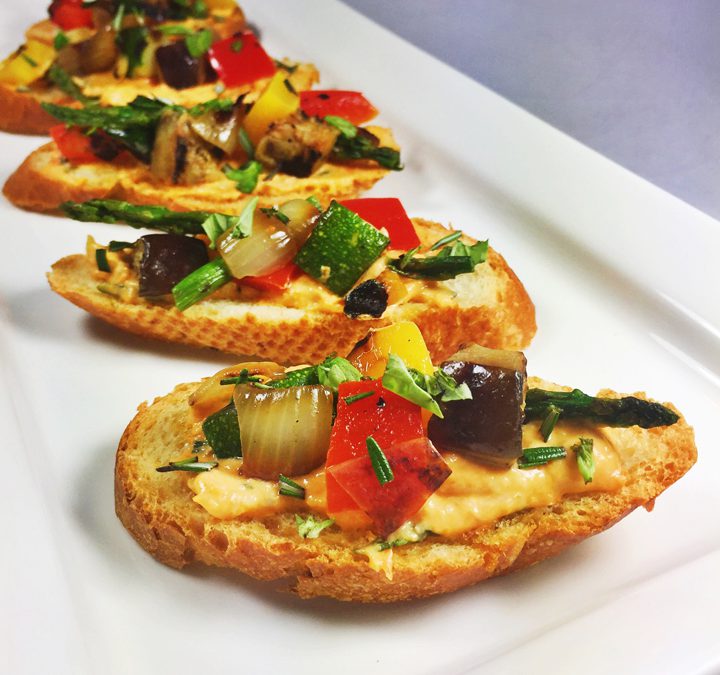 An easy appetizer for your next grilling party or summer event, these crostini come together quickly. Use your favorite grilled summer vegetables to go on top of a crunchy toasted baguette with a smooth and cheesy tomato pesto base. To finish, top with a sprinkle of fresh herbs. A tasty way to use leftover vegetables too!
INSTRUCTIONS:
1 loaf French baguette, cut into ¼ in slices on the bias
Olive oil
Kosher salt
6 ounces cherry tomatoes
2 ounces shredded Italian Blend cheese
½ cup ricotta cheese
¼ cup pine nuts, toasted
1 garlic clove
½ cup fresh basil leaves, plus one tablespoon chiffonade or thin strips, divided
1 tablespoons fresh rosemary, divided
2 cups fresh grilled vegetables (recipe below) or leftover grilled vegetables, finely chopped & reheated
INGREDIENTS:
Preheat the oven to 350 degrees. Place the bread on a sheet tray covered with parchment paper. Brush with olive oil and sprinkle lightly with salt. Bake for 10 minutes or until lightly browned
Add the cherry tomatoes, shredded cheese blend, ricotta cheese, pine nuts, garlic clove and a big pinch of salt to a blender. Process until smooth. Add the basil and 1-1/2 teaspoons of fresh rosemary; process until the basil and rosemary are small flecks.
Combine the remaining herbs, 1 tablespoon of chiffonade basil and 1-1/2 teaspoons of finely chopped fresh rosemary, in a small bowl. Thinly spread the tomato pesto on the crostini. Top with the grilled vegetables and a pinch of the fresh herbs. Make 16-20 crostini.
Grilled Vegetables: Prepare a gas or charcoal grill. Meanwhile, in a large bowl, toss 2 cups your selection of thinly sliced vegetables (such as tomatoes, asparagus, zucchini, eggplant, red pepper, yellow pepper, and onion) with 3 tablespoons of the olive oil, 1/4 teaspoon garlic powder, and a couple generous pinches of salt and pepper. Put the vegetables on the grill in a single layer. Grill, turning once, until grill-marked and tender, about 8 minutes.