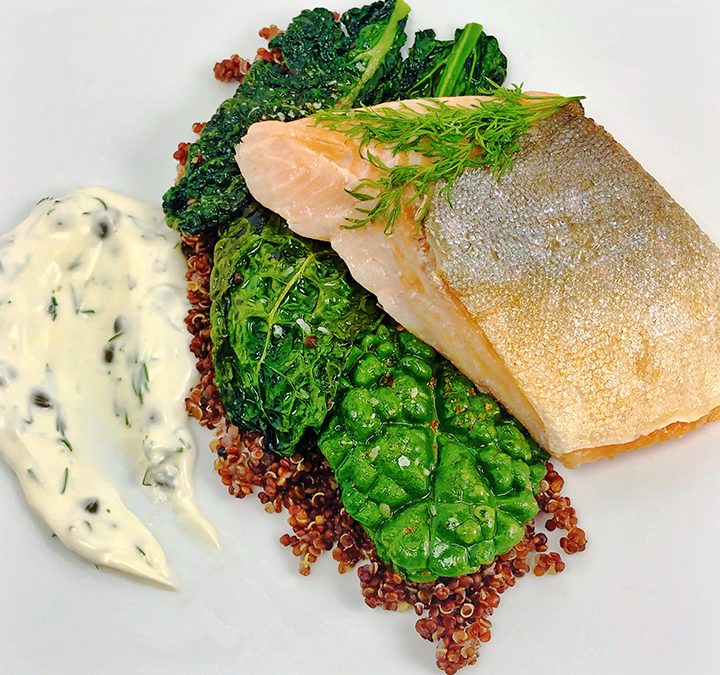 Full of flavor and contrast, our menu is not just healthy but balanced. Our crispy skin sous vide Arctic Char has a healthy fat content like salmon, while the antique Dragon Kale is rich in vitamins. Contrasting with red quinoa's slightly chewier, nuttier and heartier texture. Served with a lemon caper sauce, it's perfect for a dinner on a cold winter night.
Sous Vide Arctic Char
INGREDIENTS
¼ cup kosher salt
2 tablespoons sugar
2 pounds Arctic Char, sliced into 4 servings
8 teaspoons olive oil
4 teaspoons fresh dill
INSTRUCTIONS
For the brine, whisk ¼ cup kosher salt and 2 tablespoons of sugar into the ice water until dissolved. Add the Arctic Char and refrigerate for 30 minutes, or up to one hour.
Rinse and dry off the Arctic Char. Place in a sous vide bag with 2 teaspoons olive oil and 1 teaspoon fresh dill. Seal the bag. Set your immersion circulator to 145˚F. Drop the bags into the water bath and cook the Arctic Char for 1 hour.  
Dragon Kale
INGREDIENTS
1 pound dragon kale, stems removed and leaves left whole
1 tablespoon of olive oil
¼ teaspoon crushed red pepper flakes
2 garlic clove, finely chopped
Kosher salt
Pepper
INSTRUCTIONS
Heat olive oil in a large saucepan over medium-high heat. Add crushed red pepper flakes, and let them sizzle in the oil. Add the garlic and cook until softened. Raise heat to high, then the kale and toss to combine. Sauté for 5 minutes. Season with salt and pepper to taste.
Lemon Caper Sauce
INGREDIENTS
1/2 cup sour cream
1/2 cup mayonnaise
1 teaspoon lemon zest
1 tablespoon finely chopped capers
2 teaspoon chopped fresh dill
Kosher salt and pepper to taste

INSTRUCTIONS
Whisk together all the ingredients above until well blended. Chill well before serving.