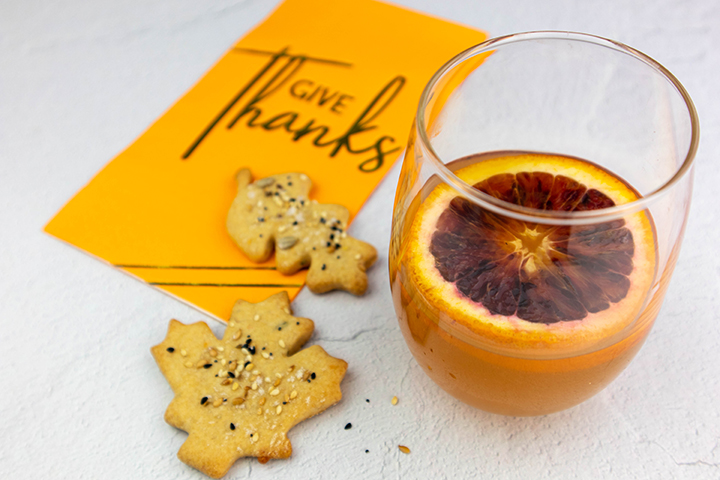 The perfect way to start your Thanksgiving celebration! Leaf-shaped cheese crackers served with a bourbon, cider, and orange juice cocktail. Napkins are available from Paper Source!
Cheese Leaf-shaped crackers
INGREDIENTS
1 cup sourdough starter
1 cup All Purpose Flour
1/2 teaspoon salt
4 tablespoons butter softened to room temperature
¼ cup finely grated pecorino Romano Cheese
¼ cup mixed bread seed topper
INSTRUCTIONS
Mix together the starter, flour, salt, butter, and cheese to make a dough. Cover with plastic wrap, and refrigerate for 30 minutes.
Preheat the oven to 350°F. Flour your work surface, rolling pin, and the top of the dough.
Roll it about 1/8″ thick. Cut out in leaf shapes and place on a parchment lined sheet trays.
Sprinkle with seeds, pressing to make them stick.
Bake the crackers for 20 to 25 minutes, until they're starting to brown around the edges. Cool completely.
Bourbon Cider Cocktail
INGREDIENTS
3/4 cup apple cider
2 tablespoons bourbon
1/4 cup fresh blood orange juice
1-inch piece of fresh ginger sliced into thin rings
One thin slice from a blood orange
INSTRUCTIONS
Fill a cocktail shaker with ice. Add cider, bourbon, orange juice, and ginger slices; shake until well chilled. Strain into a cocktail glass. Garnish with the orange slice.