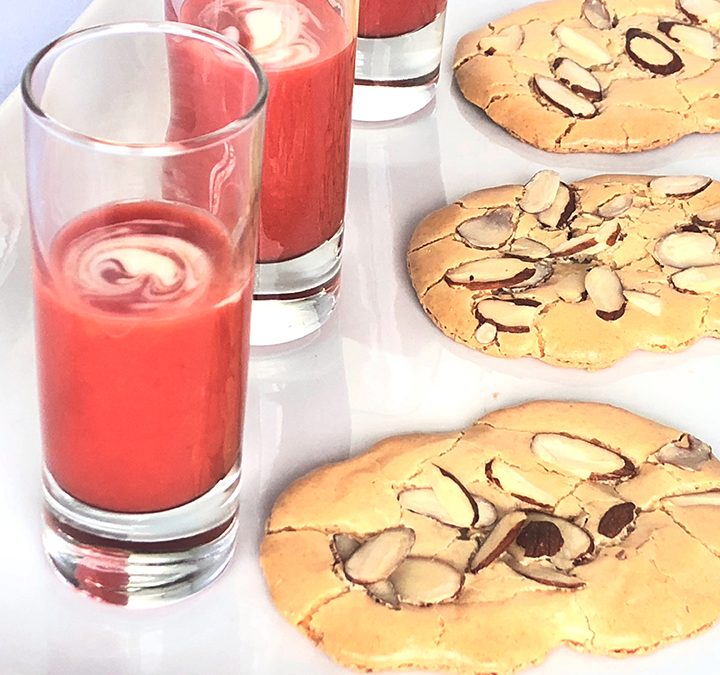 Sour cherries and almonds harmonize perfectly for dessert. We cooked tart cherries in a sweet sauce and added orange and cinnamon to make delicious cold sour cherry soup shooters. Topped with a crème fraîche and cream sauce, we served them with crisp almond flavored macaroon cookies topped with almond slivers.
Sour Cherry Soup Shooters
INGREDIENTS
3 tablespoons unsalted butter, cut into pieces
3 cups fresh sour cherries, pitted
1/2 cup sugar
1 tablespoons cornstarch
1/2 teaspoon cinnamon
1/4 cup freshly squeezed orange juice
1/4 cup crème fraîche
2 tablespoons cream
INSTRUCTIONS
Heat butter in a 12-inch nonstick skillet over moderate heat then add fresh cherries and sugar then simmer, stirring, until sugar is dissolved. Continue to simmer until cherries are tender but not falling apart, about 8 minutes. Whisk together 2 tablespoons water and cornstarch to form a thick paste, then stir into simmering cherries and boil, stirring frequently, for 2 minutes.
Place the cherries in a blender with all their juices. Add the cinnamon and orange juice. Blend until creamy. Taste, and adjust the thickness with orange juice if needed. Chill until ready to serve. When ready to serve add to six shooter glasses.
Almond Macaroons
INGREDIENTS
10 ounces almond paste
1 cup confectioners' sugar, plus more for dusting
Pinch of coarse salt
2 large egg whites
½  teaspoon pure vanilla extract 
1/4  cup sliced almonds
INSTRUCTIONS
Preheat oven to 300˚F. Place parchment paper on two baking sheets and set aside.
In a bowl of an electric mixer fitted with the paddle attachment, put the almond paste, sugar, and salt. Mix on medium speed until crumbly, about 3 minutes. Add the egg white and vanilla. Mix until smooth and thickened, about 3 minutes. 

Add the batter to a large pastry bag fitted with a round tip and pipe onto a baking sheet lined with parchment paper, spacing 2 inches apart. Place almond slices on top of each cookie. Bake until cookies are golden brown, 20 to 25 minutes. Let cool completely on a wire rack and serve with the soup shooters. Makes 6 servings.