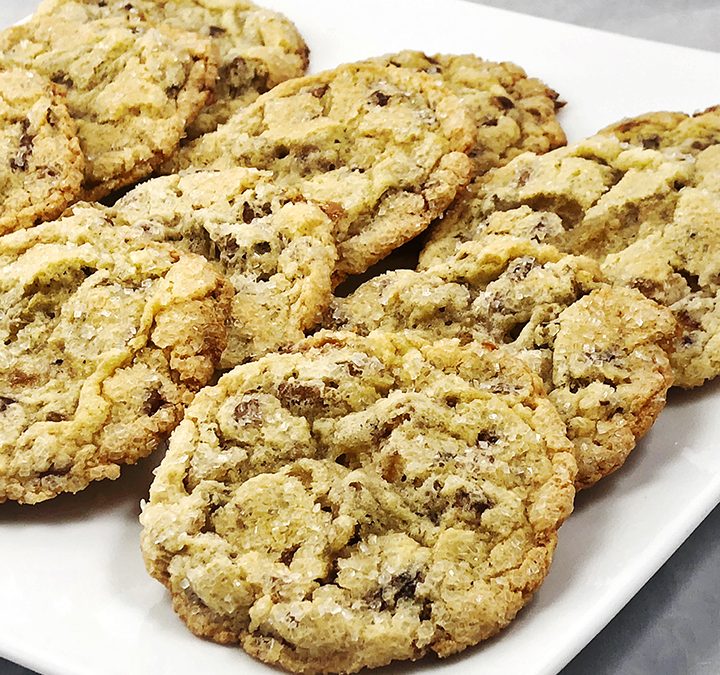 Who needs fruit cake when you can have this updated version of fruit jammy cookies? Our Holiday Fruit Cookies are filled with delicious apricot, cherry, and orange jammy bits along with candied ginger, pecans, and rum-soaked raisins. Rolled in sparkling sugar before baking, they have a super crispy, crunchy exterior and a soft jammy fruit filled interior.
INGREDIENTS
1 cup golden raisins
¼  cup dark rum
¾  cup cherry jammies*
½  cup apricot jammies*
⅓ cup diced orange jammies*
¾ cup pecan, broken into pieces
⅓ cup diced crystallized ginger
1 cup butter, softened to room temperature
2 ½  cups sugar
2 large eggs, room temperature
1 ½ teaspoons vanilla extract
3 ½  cups all-purpose flour, we prefer White Lily
1 teaspoon baking soda
½ teaspoon salt
1 cup sparkling sugar
INSTRUCTIONS
Place the raisins and rum in a small saucepan. Bring to a boil then reduce heat and simmer, tossing often, until liquid is almost absorbed about 6 -7 minutes. Cool completely gently pressing down into any remaining liquid. Add the cherry, apricot, and orange jammies to a bowl along with the pecans, ginger, and cooled raisins.Toss to combine.
Using a stand or hand mixer, cream the butter and sugar until light and fluffy. Beat in the eggs one at a time and then the extract. In another bowl, whisk together flour, baking soda and salt. Gradually add into creamed mixture. When completely combined, Stir in the fruit mixture.
Place the remaining sugar in a shallow bowl. Shape 2 tablespoons of dough into balls; Roll in the sparkling sugar to coat. Place on a parchment lined baking sheet and place in the refrigerator for 1 hour. 
Preheat oven to 350°F. Line baking sheets with parchment paper. Remove the dough balls from the refrigerator as needed, keeping the others cold, and place 2 inches apart on the baking sheets. Bake until just golden brown and set, about 15-17 minutes. Cool on the pan for five minutes then move to wire racks and cool completely.

* Fruit Jammies can be found on-line at KingArthurFlour.com