Fresh Chef Experience Cooking Classes supports Dare to Care Food Bank and our Community by teaching Share Our Strength's Cooking Matters/No Kid Hungry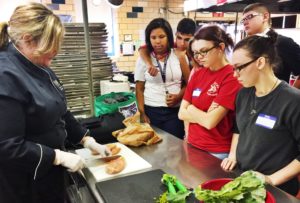 As part of the No Kid Hungry campaign to end childhood hunger in America, Share Our Strength's Cooking Matters teaches participants to stretch their food budgets and shop smarter, use nutrition information to make healthier choices, and cook delicious, affordable meals. Fresh Chef Experience Cooking Classes participates by teaching high schoolers and middle school how to prepare healthy food. Founded in 1993, Cooking Matters and thousands of volunteer chef instructors have helped more than 120,000 low-income families in communities across the country learn how to eat better for less. Share Our Strength founded Cooking Matters on a unique model of collaboration between Share Our Strength and local program partners, such as Dare to Care in our community, which leverages the strengths of all involved. Share Our Strength provides Dare to Care the professional-level curricula and instructional materials, training, evaluation and national leadership support while Dare to Care provides hands-on, grassroots-level resources and program customization. To learn more about Cooking Matters go to http://www.cookingmatters.org/. For more information on Dare to Care go to http://www.daretocare.org.
Cooking Matters Volunteers are needed

Dare to Care is in need of volunteers and financial resources to help extend the reach of Cooking Matters. Dare to Care offers five different courses for adults, families, teens, children and childcare professionals.
To volunteer time or donate resources for Cooking Matters, please contact Kimberly Gravley, Director of Nutrition Education, at 502.736.9418 or fill out the email form below.
Volunteer today to help end hunger in our community
Join Us!
By supporting Dare to Care's program Fresh Chef Experience can reach more underprivileged adults and children through teaching the nationally recognized Cooking Matters program. Volunteers are needed, so join us in our fight to end childhood hunger in America!