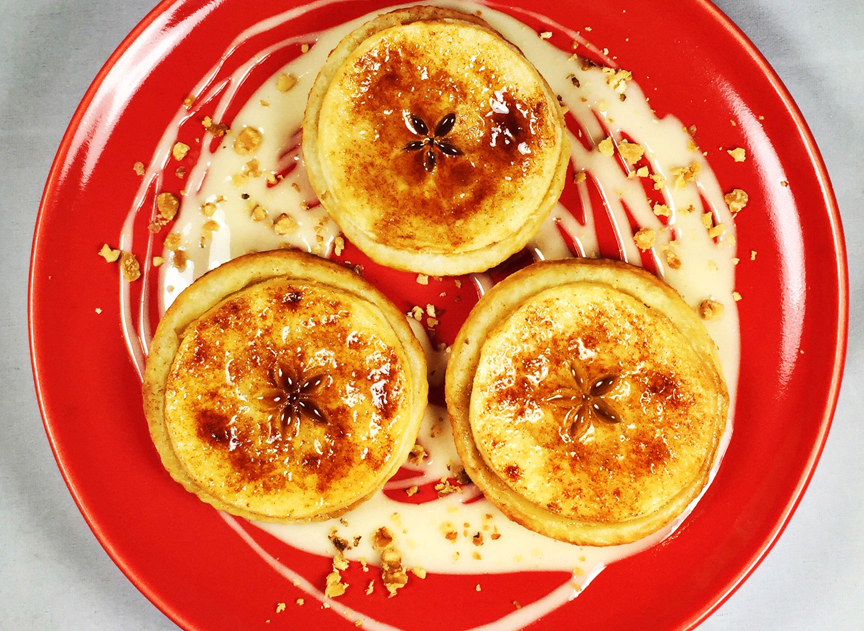 Easy to make, Tartes Pomme are mostly Apples and Puff Pasty. Baked together in the oven, the apples become soft while the pastry expands just enough to create a delightfully crunchy base. The apple cider in the recipe is reduced to create "boiled cider" and then used to brush over the apples as well as a flavor in the icing.
INGREDIENTS
2 cups Apple cider
1 piece Pepperidge Farm frozen puff pastry, thawed overnight in the refrigerator, rolled to 10-1/2″ x 10-1/2″
All-purpose flour
2 medium Fuji or honey crisp apples ( about 3″ or less in diameter)
1 tablespoons Turbinado Sugar or brown sugar
1/2 teaspoon cinnamon
1/4 teaspoon ground ginger
1 cup powdered sugar
1/4 cup finely chopped walnuts
INSTRUCTIONS
Pour two cups of apple cider into a saucepan. Set over medium heat and bring to a simmer. Continue to simmer to reduce to 1/2 cup cider, about 20-30 minutes. Set aside to cool slightly.
Preheat the oven to 400°F. Open the sheet of puff pastry on a lightly floured surface and roll to a 10-1/2" x 10-1/2" inch square.
Using a 3 1/2″ round cookie cutter, cut out 9 rounds of puff pastry. Push straight down with the cookie cutter to avoid twisting. Move to a baking sheet lined with parchment paper and poke the top of each round several times with a fork. Set in the refrigerator to keep cold.
Peel the apples. Cut the top off one apple so it is flat. Continue cutting through the apple to get large circles, 1/4″ thick. Repeat with the second apple to get 9 apple circles. Remove only the seeds and stems, leaving the center intact.
Combine the Turbinado or brown sugar, cinnamon, and ginger in a small dish. Remove the puff pastry rounds from the refrigerator. Lightly brush one side of the apple circles with the reduced cider and sprinkle 1/2 the sugar and spice mixture over the apples. Place them on the puff pastry rounds, sugar side down. Lightly brush the tops with reduced cider and sprinkle with the remaining sugar and spice mixture. Place in the oven and bake for 20-25 minutes until the pastry is puffed, lightly browned, and the apples are tender enough to be pierced with a fork. Remove from the oven and cool slightly. (Tip: If the pastry puffs up too high and knocks any apples off, while warm gently push the pastry down and slide the apple back centered on top before cooling.)
While the tarts bake, make the icing – combine the powdered sugar with 2 tablespoons of the reduced cider. Whisk until the icing is very smooth.
To serve- Drizzle some icing on the plate, top with an apple tart and add a sprinkle of finely chopped walnuts. Makes 9 tartes.