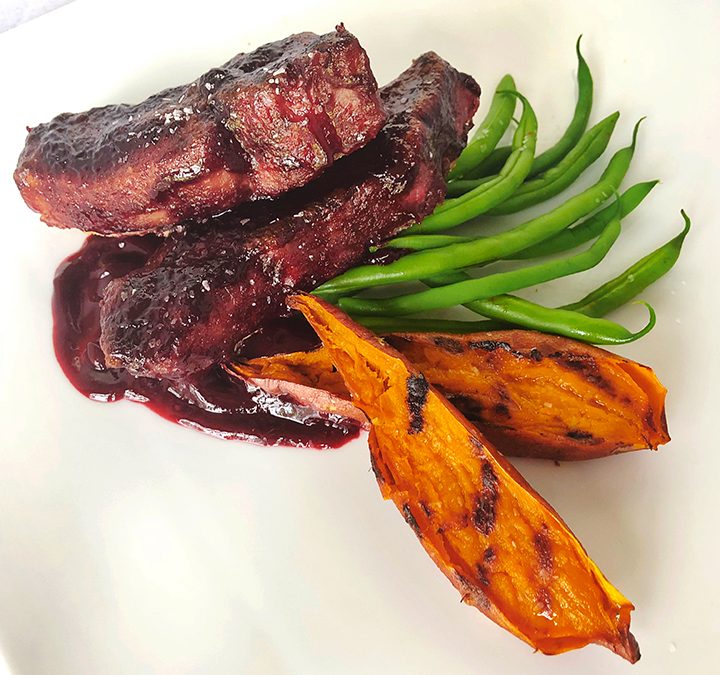 A delicious combination of blackberries, blueberries, and ginger create a sweet and tart BBQ sauce. When brushed over pork ribs, and then roasted to crispy perfection, it is an irresistible combination. We served it with farmer's market fresh green beans and grilled baby sweet potatoes.
INGREDIENTS
For the sauce:
1 ½  cups fresh blackberries or frozen, thawed
½  cup fresh blueberries, or frozen, thawed
½  cup sugar
2 tablespoons chopped peeled fresh ginger
2 tablespoons balsamic vinegar
Pinch of kosher salt
For the ribs:
8 country-style boneless pork ribs
¼  teaspoon garlic powder
½  teaspoon onion powder
½ teaspoon kosher salt
1 cup blueberry and blackberry BBQ sauce
INSTRUCTIONS
Make the sauce:
Add the berries and sugar to a sauce pan. Cook until the berries have completely collapsed and formed a thick sauce. Strain, through a fine mesh strainer and add the sauce to a blender with the remaining ingredients. Blend until smooth, measure out ½ cup for the ribs and pour the remaining into a bowl and set aside.
Make the ribs:
Preheat the oven to 325˚F. Dry the country-style ribs with paper towels, and if not cut through, cut the pork into separate rib shaped pieces. Combine the garlic powder, onion powder, and salt in a small bowl then rub all over the ribs. Line a shallow baking sheet with foil and set a cooling rack into the baking sheet.  Place the ribs on the rack in the pan and cover with a piece of foil. Place in the oven and bake for 1 hour and 15 minutes, or until the ribs internal temperature is 140˚F. Remove the foil and brush the ribs with half the barbecue sauce. Bake uncovered for about 15 minutes longer or until the temperature has reached 145˚F. Remove from the oven, brush with the remaining sauce and serve with extra sauce for dipping. Makes 4 servings.