It's always so much fun to be in Louisville this time of year. The weather gets warmer, the trees start flowering and Kentucky Derby fever is in the air. For two weeks Derby events are everywhere in the City of Louisville and Jefferson County.
Fresh Chef Experience had our first Derby event this past Saturday, April 26, at Mall St. Matthews Williams-Sonoma. We had a great cooking event in the store where we prepared delicious food perfect to serve on Derby Day. A fun crowd enjoyed Fresh Chef Experience's Derby dishes – Ky Bibb salad with goat cheese, toasted walnuts, dried cherries and walnut oil/bourbon vanilla sorghum vinaigrette, grilled flank steak with a bourbon/green peppercorn sauce and Ky sorghum grits.  We even gave away a derby gift – a set of 10 prep bowls!
Additionally, it was a special pleasure to be able to cook at Williams-Sonoma with locally grown ingredients and support our local food producers. Our Fresh Chef Experience/Williams-Sonoma event used local products: Weisenburger Grits, Grateful Greens Bib Lettuce, and Kentucky Bourbon Barrel Foods sorghum and bourbon vanilla sorghum  – YUM!
Fresh Chef Experience continues Derby Week with an event on Friday morning May 2nd. I will be preparing a special Kentucky Oaks Brunch for several guests at the beautiful home of Martha and Ron Wolford. This brunch was part of a package sold at auction last year at the prestigious Julep Ball to benefit the James Graham Brown Cancer Center. Fresh Chef Experience is proud to participate and support this noble cause. More details will follow on this later this week!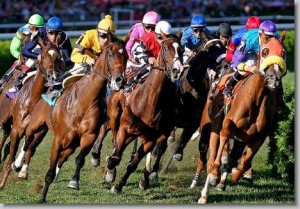 Wishing everyone a safe and fun Derby Week!