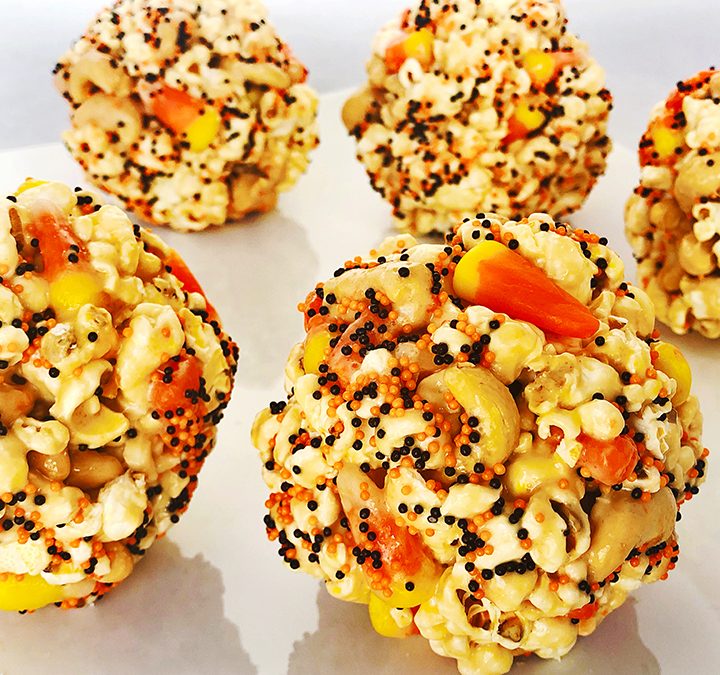 A delicious combination of sweet, salty, nutty, and crunchy in one easy to make treat. These seasonal popcorn balls are a perfect snack for celebrating Halloween. 
¼ cup (½ stick) unsalted butter, plus more for buttering hands
1 package miniature marshmallows (10 ounces)
¼ cup light brown sugar, firmly packed
12 cups popped popcorn, we use Skinny Pop Popcorn
½  cup candy corn
½ cup salted roasted cashews
½ cup Halloween caviar sprinkles, spread out on a plate
Melt the butter in a large heavy pot over low heat. Add marshmallows and brown sugar and stir until completely melted and combined. Add the popcorn, candy corn, and cashews into a large bowl, mix well. Remove the marshmallow mixture from the heat and pour over the popcorn mixture and toss well to combine. With buttered hands, shape into 2 ½ inch balls and then immediately roll in Halloween caviar sprinkles. Set on parchment lined baking sheet to dry slightly, then serve.