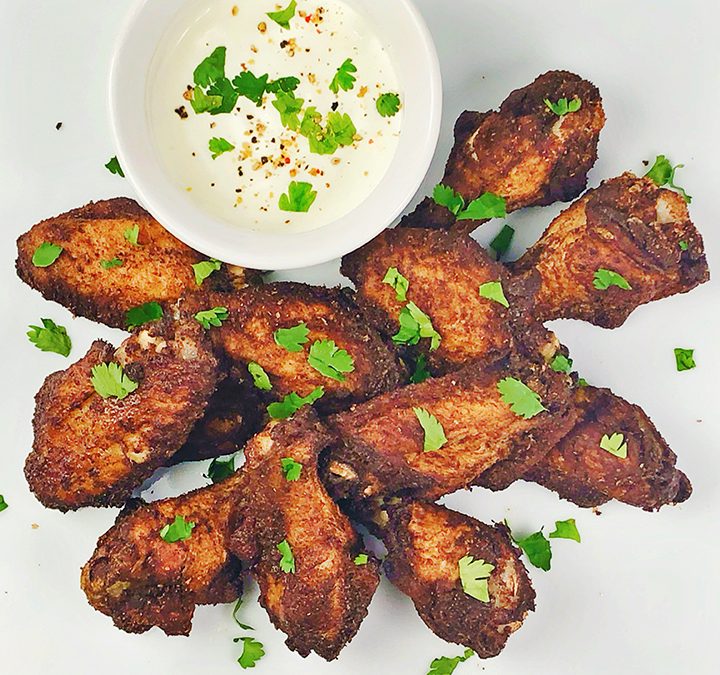 These five ingredient chicken wings are super easy to make and tastes delicious. Simply combine the spices, rub them on the wings, then bake! Perfect for your Super Bowl Party served with a delicious Cilantro Dipping Sauce.
Ingredients
Chicken Wings:
40 chicken wing pieces or 20 whole chicken wings
2 tablespoons Chinese five- spice powder
3 teaspoons cayenne pepper
½ teaspoon Kosher salt
1/8 teaspoon freshly ground black pepper
Creamy Cilantro Dipping Sauce:
1/3 cup chopped fresh cilantro leaves
¼  cup light sour cream
¼  cup mayonnaise
¼  cup yogurt
½ lemon, juiced
Kosher salt and freshly ground black pepper
Directions
Chicken Wings:
Preheat the oven to 500˚F. Place a cooling rack over a baking sheet and set aside.
If you have whole chicken wings, cut off wingtips and cut the wings in half at the joint. Discard wingtips.
Place the wings in a large bowl. In a small bowl combine well the five-spice powder, cayenne, salt and pepper. Sprinkle on the wings and rub the mixture into all the wings, rubbing until all the mixture is absorbed on to the chicken.
Place the wing pieces on the cooling rack set over the baking sheet with the side of the wing that has the most skin is facing up. Roast until cooked through, browned and crispy, about 25 minutes. Serve hot with Creamy Cilantro Dipping Sauce.
Creamy Cilantro Dipping Sauce:
Combine ingredients except the salt and pepper in mixing bowl. Whisk ingredients to completely combine and season with salt and pepper, to taste. Serve with the hot wings.