Meaning "partially frozen" in Italian, semifreddo will maintain a soft, velvety texture – even right out of the freezer. Semifreddo contains so much sugar and air, it will never freeze into a hard, dense block like ice cream. To make a semifreddo you don't need an ice cream maker or any other special equipment – just a hand mixer. It's so easy to whip one together you'll want to give it a try for your next summer event, or maybe just because it tastes so good, and it's just so darn hot outside.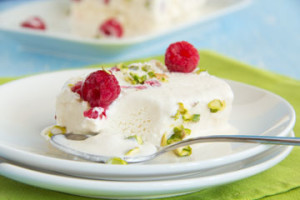 INGREDIENTS
1/2 cup chopped pistachios, toasted
1-3/4 cups chilled heavy whipping cream
1-1/4 cups plus 1/2 tablespoon sugar
7 large egg yolks
1/2 cup fresh lemon juice
1 tablespoon plus 2 teaspoons finely grated lemon peel
1/4 teaspoon salt
1 cup fresh raspberries
INSTRUCTIONS
Line 9x5x3-inch metal loaf pan with plastic wrap, leaving a generous overhang. Sprinkle the chopped and toasted pistachios evenly over the bottom of pan. Using an electric mixer, beat whipping cream in large bowl until soft peaks form. Refrigerate whipped cream while making the custard.
Whisk 1-1/4 cups sugar, egg yolks, lemon juice, lemon peel, and salt in large metal bowl to blend. Set bowl over large saucepan of simmering water and whisk constantly until yolk mixture is thick and fluffy and instant-read thermometer inserted into mixture registers 170°F, about 4 minutes. Remove bowl from over simmering water. Using electric mixer, beat mixture until cool, thick, and doubled in volume, about 6 minutes. Fold in chilled whipped cream. Transfer mixture to prepared loaf pan and smooth top. Tap loaf pan lightly on work surface to remove air pockets. Fold plastic wrap overhang over top to cover. Freeze semifreddo until firm, at least 8 hours or overnight.
When ready to serve: Gently mix the berries and remaining 1/2 tablespoons sugar in large bowl. Rest for 20 minutes in the refrigerate until cold. Unfold plastic wrap from top of semifreddo and invert dessert onto platter; remove plastic wrap. Dip heavy large knife into hot water; cut semifreddo crosswise into 1-inch-thick slices. Transfer to plates; spoon the raspberries over the top.