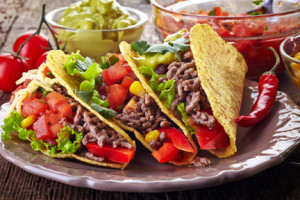 Now is the time to hit the Farmers Market for some of the seasons best produce. This recipe is loaded – lettuce, onion, corn, tomato, chilies, cilantro, avocado and even lean ground bison meat. Then pile on the toppings with your customize Taco Topping Bar! Add some of your favorite vegetables, cheeses, avocado, and sour cream. Or mix up your own version of this recipe by adding in some chopped summer squash, zucchini or even baby eggplant. Ground bison is available at most Farmers Markets, Whole Foods or Fresh Market.
INGREDIENTS
2 tablespoons vegetable oil
1 medium onion, chopped
2 garlic cloves, finely chopped
1 fresh jalapeno chili, stem removed, seeded, finely chopped
Kosher salt, freshly ground pepper
1 teaspoon chili powder
½ teaspoon ground cumin
½ teaspoon ground coriander
1 lb ground bison or ground beef chuck
14-oz. fresh cherry tomatoes, sliced in half
1 cup fresh raw corn cut off cob
Taco Topping Bar –
Corn taco shells or flour tortillas (heated)
Baby lettuce leaves
Fresh chopped cilantro
Grated cheddar, Monterey jack, or pepper jack cheese
Diced avocado or guacamole
Sour cream
Sliced red peppers
Pico de Gallo
DIRECTIONS
Heat oil in a large skillet over medium heat. Add onion and cook, stirring often, until softened and lightly browned, 8-10 minutes. Add garlic and jalapeno and season with salt and pepper. Cook, stirring, until garlic is fragrant, about 1 minute. Add chili powder, cumin, and coriander and cook, stirring, until spices are fragrant, about 1 minute more. Add ground bison, season with salt and pepper, and cook, breaking up with a spoon, until meat is cooked through, about 5 minutes. Add tomatoes, corn, and ½ cup water and bring to a simmer. Season again to taste with salt and pepper and cook, stirring occasionally, until the liquid is reduced slightly and tomatoes are soft about 8-10 minutes.
Serve with your favorite Taco Topping Bar selections.