Celebrate St. Patrick's Day with a tradition Irish meal – potatoes and lamb! This recipe for Roasted Garlic and Kale Colcannon comes from Irish Instructional Chef – Rachel Allen. If you prefer cabbage, you can substitute the kale with cabbage for a more tradition recipe.
Lamb steaks are cut from the lamb leg. If you don't see them in the meat case at the grocery ask your butcher to cut some for you.
ROASTED GARLIC AND KALE COLCANNON WITH LAMB STEAKS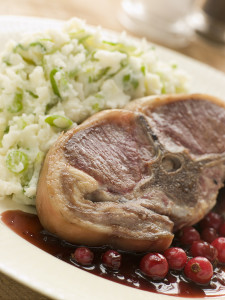 COLCANNON INGREDIENTS
1 large garlic clove, papery skin still on
2 tablespoons extra virgin olive oil
kosher salt and fresh ground black pepper
1 sprig of rosemary
2-1/2 lbs of russet potatoes scrubbed clean
1 lb of kale (or savoy cabbage)
1 cup whole milk
4 tablespoons of butter
COLCANNON DIRECTIONS
Preheat the oven to 425 degrees F.
Place the garlic clove in a ovenproof dish, drizzle with olive oil, season with salt and pepper and add the sprig of rosemary. Cover with foil and roast for about 45 minutes until the garlic has completely softened.
Place the potatoes in a large saucepan and cover with cold water. Add a large pinch of salt and bring to a boil. Cook the potatoes, covered, in boiling salted water for 10 minutes. Strain off two-thirds of the water and steam over low heat with the lid on for another 20 to 30 minutes until tender. Test using a skewer or feel with your fingers; avoid stabbing the potatoes with a knife because this will make them break up.
Cut out the tough center rib in the kale leaves then slice 1/4 inch thick ribbons. Add the milk to a sauce pan, add the kale, and cook 4 minutes or until tender.
When the potatoes are cooked, drain all the remaining water. When they are still warm peel, and mash with the butter and salt and pepper. (Rachel's tip – hold the potato on a fork and peel with a knife if they are hot.) Squeeze the roasted garlic out of its papery shell and beat into the potatoes with enough of the warm cabbage milk to make a fluffy puree. Drain the cooked kale and stir it into the potatoes.
LAMB STEAK INGREDIENTS
Two1-1/4-pound lamb leg steaks, cut about 1-1/4 inches thick
1/2 teaspoon ground cumin
1/2 teaspoon ground fennel seeds
Kosher salt
Freshly ground pepper
2 tablespoons canola oil
4 small thyme sprigs
2 garlic cloves
6 tablespoons unsalted butter, cubed
1 shallot, minced
1 cup dry red wine
1 cup chicken stock
LAMB STEAK DIRECTIONS
Rub the lamb with the cumin and fennel; season with salt and pepper. In a cast-iron skillet, heat the oil until smoking. Add the lamb and cook over high heat, turning once, until browned. Reduce the heat to moderate. Add the thyme, garlic and 4 tablespoons of the butter and cook for 5 minutes, basting the lamb with the butter. Turn the steaks and cook, basting, until an instant-read thermometer inserted in the thickest part registers 130°, 5 minutes; transfer to a carving board and let rest for 10 minutes.
Pour off all but 1 tablespoon of the fat. Cook the shallot over moderately high heat until softened. Add the wine and simmer until syrupy. Add the stock and simmer until slightly reduced, 3 minutes. Off the heat, whisk in the remaining 2 tablespoons of butter; season with salt and pepper.
Serve the lamb steak with sauce and colcannon.